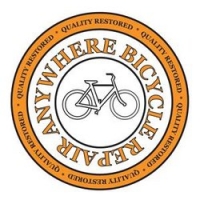 Started on Jun 19, 2015 by
Anywhere Bicycle Repair
Activity: Cycling
0 comments | 3187 views
1 - Clean your chain
Cleaning your chain is a task you should do every 300 miles. It is dirty and messy, but if you want the components to last longer, roll up those sleeves, grab an old t-shirt and get to work!

2 - Lube your chain
It is extremely important to lube your chain. We often see bikes that will not shift well or ride quietly because the lack of chain lube. You need to apply chain lube before every ride. We know it seem excessive, but in San Diego we use dry lube (because of the dry climate) and it wicks away from your chain quicker than wet lube (for wet climates).

3 - Replace your chain
A chain life averages about 1500 miles. Some cyclists get a few hundred less miles or a few hundred more miles. The life of the chain depends on how often the chain is cleaned, lubed and how stressed the chain stays for the many cycling hours. If you are a cyclist who likes to push those hard gears, you may wear out your chain faster than the cyclists who like to spin all day.

Be aware of these 3 factors that have a major effect on the quality of your ride. And do not hesitate to stop by the shop to have show you or explain in more detail these three important facts. The more you know about how your bike works, the better of a cyclist you become!