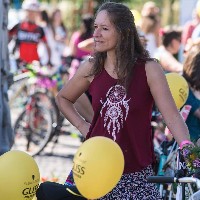 Upcoming: Friday, Dec 8, 2023 8:30pm
Host:
Teodora Marian
Start:
Friday, July 31, 2015 8:30pm
Repeat:
Weekly
Activity:
Dancing
Location:
London
City:
London, London, United Kingdom |
View Map
4102 Views | 0 Posts
Details:
Start to get in touch with your body and relate with the nature surrounding. Its a balance between trust, inner discovery and dance. You dance or you are danced?

About myself:
I move to London starting with the end of July and I want to bring my passion for dance here with me. I love the nights and the stars and dancing underneath it makes me fell like in a movie, full of magic. I'm a contact improvisation experienced dancer but i like to mix it with meditation and self discovery. I believe that dance is an important part of our soul and I would like to share this experience with you.
Attending: 1