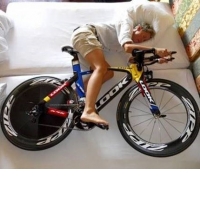 Past Event
Host:
Bogie B
Start:
Saturday, July 25, 2015 8:30am
Repeat:
No
Activity:
Cycling
Location:
UC Cyclery - 8715 Villa La Jolla Dr, La Jolla, CA 92037
City:
San Diego, California, United States |
View Map
1766 Views | 1 Posts
Details:
Join us on a tandem ride! Regular roll out time from UC Cyclery at 8:30 up through the ranch to Java. 38 miles 2,500 feet of climbing - twice the power with 4 legs on the long bikes. Tony Lowery and Pat Murray leading.
Attended: 1