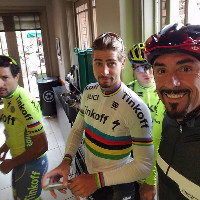 Past Event
Host:
Paul Rios
Start:
Saturday, September 26, 2015 10:00am
Repeat:
No
Activity:
Cycling
Location:
Parking lot of the Rosarito Beach Hotel
City:
Rosarito , Baja California Norte , Mexico |
View Map
3159 Views | 1 Posts
Details:
The Rosarito Ensenada Bike Ride is a route classified as "Moderate Difficulty" by BRDAA, the Bike Ride Directors Association of America. So before you participate you must be physically fit, have enough experience and training for the event.

The route of 82.5 kilometers is completely paved, during the first 35.4 kilometers you will be on side of the ocean through charming towns along the coast, this first part of the road is primarily flat with some hills.
Attended: 1