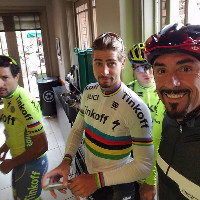 Past Event
Host:
Paul Rios
Start:
Sunday, June 21, 2015 8:00am
Repeat:
No
Activity:
Cycling
Location:
Starting Line: CEARTE in Tecate B.C. Mexico
City:
Tecate, Baja California Norte , Mexico |
View Map
1583 Views | 2 Posts
Details:
This event is also a fun bike ride, so no worries if competition is not your thing. The route takes you from the city of Tecate to the city of Ensenada in Baja California Mexico totaling 73 miles through baja wine country. During the ride, you will climb almost 4000' with 4 major hills. To create additional competition amongst riders, we created a race within the race to the top to one of the hills. Competitors with the fastest time will earn themselves King and Queen of the hill! ***If you are not the competitor type, this race is still for you. Racers will be separated by their projected race times, so if you just want to ride and not race feel free.
Attended: 1