1. Specialized S-Works Romin Evo Pro Saddle
You can find sub-100g saddles if you are looking for maximum weight savings, but often that means foregoing comfort or spending your cash savings. At $300, Specialized's brand-new S-Works Romin Evo Pro saddle is very light and feature-filled, with a soft-tissue cutout, multiple widths (135mm, 143mm, and 155mm), and a combination of padding and shell flex that combine to make this saddle more comfortable and shock-absorbent.
Price: $300
Weight: 139 grams (143mm)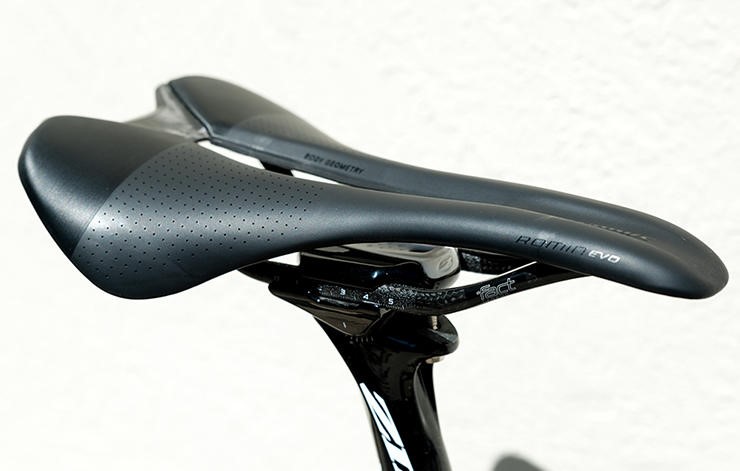 2. Speedplay Nanogram Zero Pedals
Speedplay pedals are light to begin with, but with the Nanogram, Speedplay founder Richard Bryne has honed everything—including materials, bearing design and wrench interface—which together knock 34 grams (per pair) off Speedplay's Zero Titanium, the company's once-lightest pedal. Combined with the Nanogram's 89g cleats (for three-hole shoes), the total weight savings is about 110g compared to a Shimano Ultegra system.
Just because they're light doesn't mean they're stripped bare. The Nanogram still features dual-sided entry, adjustable inboard and outboard float (up to 17 degrees total float), a grease port for easy maintenance, can be rebuilt as parts wear, and is compatible with Speedplay's extensive fitting solutions. The pedals do have a 185 lbs. weight limit, and Speedplay says they are for "race day, and limited-occasion use only" because many of the materials were chosen for their lightness, not their durability.
Price: $630
Weight: 130 grams
3. Eecycleworks eeTop and eeNut
Inside your carbon bike fork's steerer is a massive pile of aluminum (and probably steel) with the primary purpose of providing something for the headset preload top-cap to thread into. The Eecyclework eeNut replaces the inelegant stock plug with 5.3 grams of artfully designed and machined aluminum. The aluminum stem cap and bolt are light, pretty, and (says Eecycleworks' Craig Edwards) provide more precise adjustment than standard stem caps and bolts.

Price: $60
Weight: 9.5 grams
4. Lizard Skins DSP 1.8mm Bar Tape
This polymer foam bar tape will whack a stunning 10 grams off your bike compared to the popular Cinelli Cork Ribbon. Not only is it lighter, but this Lizard Skins tape offers a tacky and secure grip, wet or dry; plus, for such thin tape, it damps vibration very well. Unlike normal tape, DSP should be installed without stretching, according to Lizard Skins, which makes perfectly wrapping your bar tape a little more difficult.
Price: $42
Weight: About 50 grams (including plugs)
5. Bontrager Ultra-Lightweight Latex Bicycle Tubes
A latex bike tube will save you a handful of grams - about 20g per wheel compared to a butyl tube. There are other benefits, too; Because latex is more supple than butyl, it will reduce rolling resistance. A latex tube might be more puncture-resistant as well. However, they're more porous, and need to be topped off with air before every ride.
Not all cyclists can make the swap; check with your wheel's manufacturer before using them. Enve, for example, does not recommend using latex tubes with clincher wheels, noting on its website that "latex is very inconsistent in comparison to butyl, and doesn't hold up as well in all of our internal testing."
Price: $20
Weight: 72 grams